There are many activities and locations to enjoy while visiting Montauk — many more than you'll be able to fit into one evening! The perfect place to take loved ones, a sweetheart, or a solo getaway, you'll want to make the most of your time in this charming coastal community. Follow these tips to enjoy an ideal evening in Montauk, whether visiting from across the country or your East Hampton real estate.
Montauk Point State Park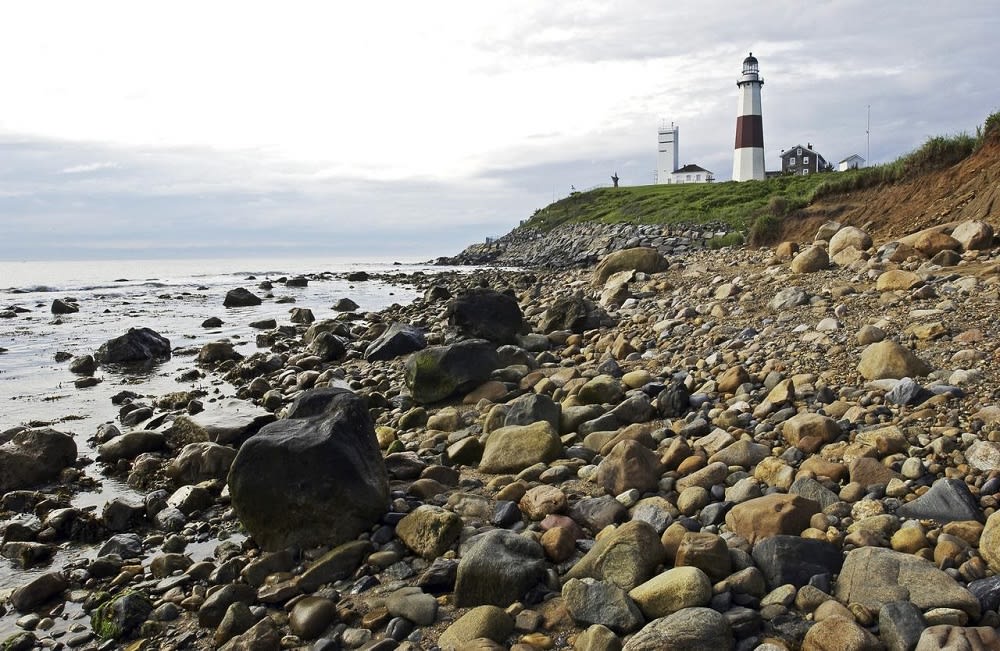 Photo Courtesy of ILoveNY.com
Begin your Montauk journey in
Montauk Point State Park
. An 862-acre state park with several trails and paths, the shores of Montauk Point will provide you with a beautiful view of the Atlantic Ocean while hiking or cross-country skiing. After a long trek, take a break by the coast to catch a glimpse of seals sunning themselves on the rocks. This state park offers several amenities, including equestrian trails, stand-up paddleboarding, playgrounds, and surfing.
If you enjoy fishing, Montauk Point State Park is known as the surfcasting capital of the United States. These famous shorelines offer opportunities to catch striped bass, bluefish, and fluke. If you want a gorgeous view of the coastal sunset, Montauk Point State Park provides sunset horseback riding along the equestrian trails.
Montauk Point Lighthouse
While you're enjoying yourself at Montauk Point State Park, don't miss your chance to visit the
Montauk Point Lighthouse
. Montauk Point Lighthouse is the oldest lighthouse in New York State, authorized by United States President George Washington in 1792 and completed in 1796. It stands at a towering 110 feet and 6 inches tall, with 137 iron steps to the top. The light flashes every five seconds and can be seen from 19 nautical miles away. The Montauk Point Lighthouse offers a museum, gift shop, and a lighthouse tour on the lighthouse grounds.
Deep Hollow Ranch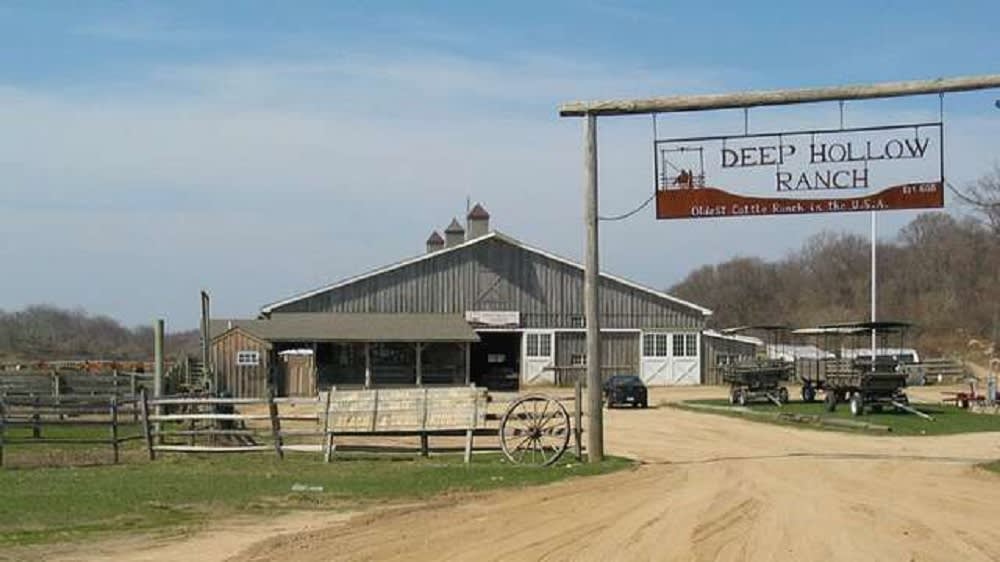 Photo Courtesy of Map | Roadtrippers
Established in 1658,
Deep Hollow Ranch
is the oldest working ranch in the United States. Operated by a local family, the farm offers an authentic western experience with its western-style trail rides. The beach and trail rides are held in small groups, guided and tailored to the riding abilities of each rider. They also offer private guided rides. If your little one can't get enough of the horses, Deep Hollow Ranch also offers pony parties at the property.
Enjoy fresh seafood
If you're visiting the coast, you won't want to miss your chance to
eat fresh seafood
. Many restaurants in the Montauk area offer freshly-caught seafood and other delicious options. Whether you're craving fresh lobster, shrimp, or tuna — or prefer the "turf" part of surf and turf — the restaurants around Montauk offer the freshest options from local waters and farms.
Montauk has several options to suit its residents and visitors, from family-friendly casual dining to upscale fine dining experiences. Many restaurants offer outside dining options, allowing you to enjoy Montauk's beautiful coastal weather and views while you dine. A favorite Montauk eatery of those who own East Hampton real estate is the oyster spot
Sel Rrose
.
Montauk Brewing Company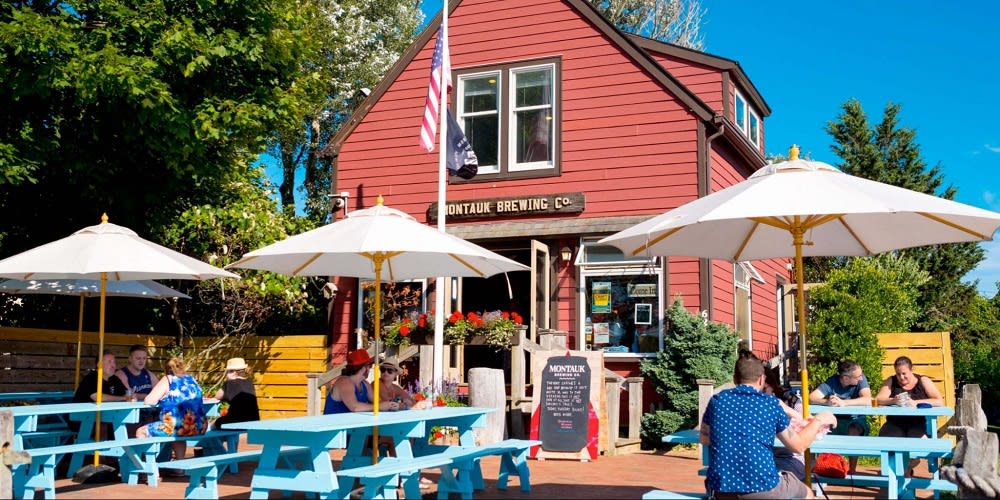 Photo Courtesy of Hamptons.com
If you want a taste the local beer, be sure to make a stop at
Montauk Brewing Company
— no reservations required. Montauk Brewing Company doesn't ship its brews outside of New York State and often offers brewery-exclusive beverages, so a tasting experience here is a Montauk-only opportunity.
Montauk Brewing Company is a family-friendly establishment, which means you can bring the kids with you on this visit. Before you end your visit to the Montauk area, stop by a convenience store to pick up a six-pack of their delicious hard lemonades and hard seltzers to take home with you.
Private beach fire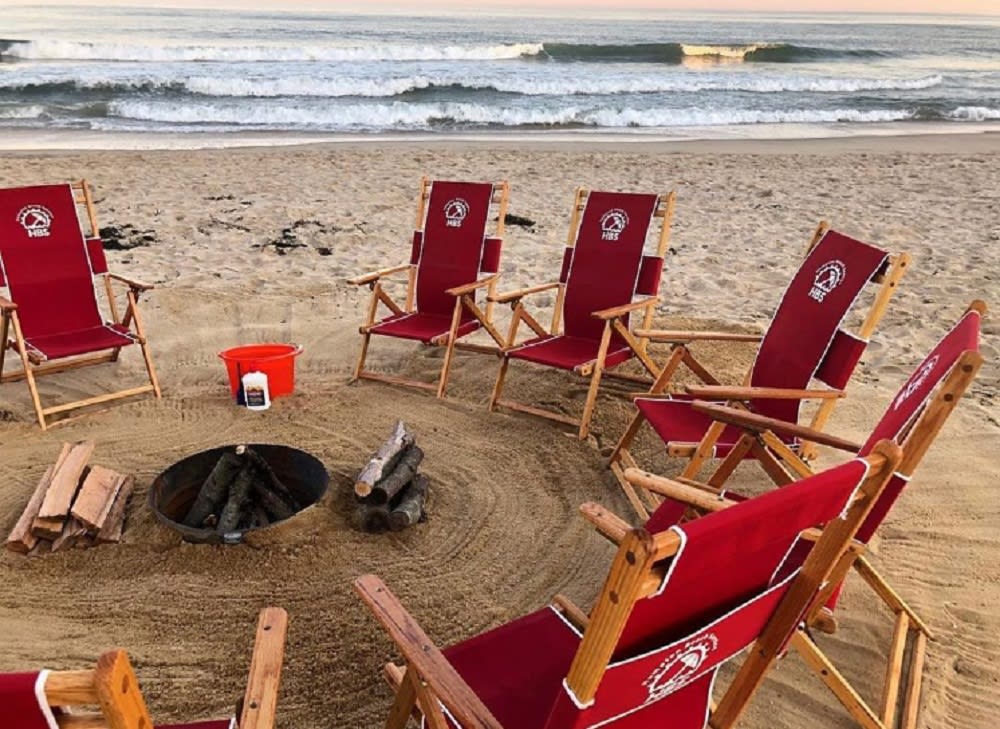 End your perfect Montauk evening with a breathtaking view of the coastal sunset. The best way to do that is with your own
private beach fire
— reserve a fire pit for your party and enjoy a relaxing end to your evening, complete with a personal attendant who will see to the fire and assist with your every need.
If you'd like to take an evening away from your East Hampton property and enjoy a fresh seafood dinner on the beach, you can reserve a luxury fire with dinner. With this service, you'll receive a full dining table and a nearby fire pit for your party! Place your order from a nearby restaurant with the beach staff, and your food will be delivered directly to your party to enjoy as you watch the sunset. You'll also receive three Champagne, Rosé, or Prosecco bottles with your reservation.


Whether you want to reserve a spot to relax or a place to enjoy dinner, both kinds of reservations include complimentary s'mores for your entire party. There's no better way to end your evening in Montauk than a cozy spot by the fire, delicious s'mores, and a splendid sunset.


After you spend your ideal evening in Montauk, you'll discover so many more places to visit and activities to do! If you'd like to stay for several days, plenty of hotels and East Hampton real estate locations can be rented for vacations or single-night stays. You'll quickly fall in love with Montauk's atmosphere and coastal lifestyle.


And when you finally decide that you can't get enough of Montauk's picturesque views and quaint atmosphere,
The Atlantic Team
is here to help you find your perfect Montauk home. The Atlantic Team has over 15 years of East Hampton real estate experience and is ranked as the #1 team in the Hamptons — and the 7th team in the nation!
All three members of The Atlantic Team are full-time residents of the Hamptons, making them local experts in the community and surrounding areas. Reach out to them directly when you're ready to take the next step, and they'll help you achieve your dream of owning beautiful East Hampton real estate.