With a growing population of more than 58,000, Southampton is quickly becoming one of the top places to call home on Long Island. Homes for sale in Southampton have seen incredible growth in value over the past year and are expected to continue drawing in more and more people. Aside from boating culture, beach trips, and the tight-knit community, Southampton residents can dine at some truly exquisite restaurants. Downtown Southampton has a dozen spots to choose from, whether you're in the mood for American comfort foods, Italian plates, or fresh-caught seafood. So if you're browsing Southampton real estate and want to know the best places to dine outdoors in the summer, keep reading for our favorite picks.
Fellingham's
This rustic spot is Southampton's go-to sports bar, a relaxed bar with traditional pub fare. With a sports-themed menu, visitors can start with a bench warmer or pre-game show of corn fritters, fried bay scallops, and more. The sports page is where you'll find all the main courses, from burgers to fish & chips to hot dogs. There's even a little league menu for the kids. Established in 1980,
Fellingham's
is a true treasure, and locals love the longstanding bar, especially when they hope to catch the big game on TV. Located on Cameron Street, Fellingham's is open from 11 am - 11 pm daily, with extended hours on Saturday. The kitchen closes nightly at 11 pm.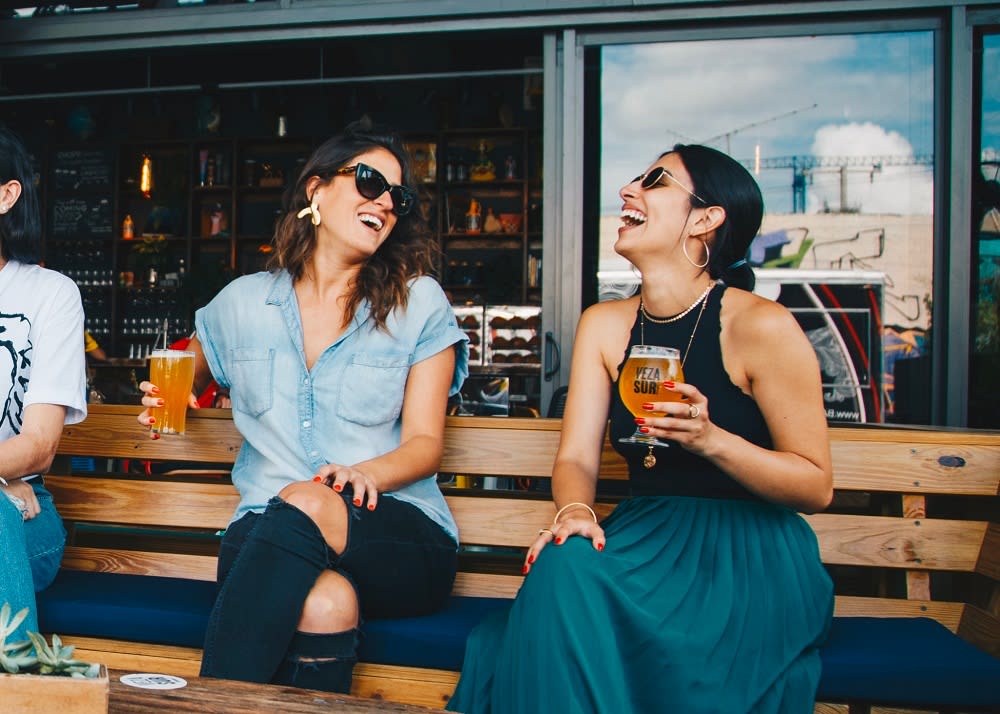 Southampton Publick House
For a casual eatery, dine outdoors at the
Southampton Publick House
on Jobs Lane. The back bar is a great spot to grab a pint and choose from a selection of classic American bites. Traditional items like wings by the dozen and the 8oz. sirloin burgers invite guests in, but the restaurant's daily specials keep them coming back. For something different, try the French dip au jus or stick to a staple like the chicken quesadillas. The kitchen is open until 10 pm and the bar until 12 am Sunday through Thursday, with kitchen hours until 11 pm and bar hours until 1:30 am Friday and Saturday. If you're hoping to catch happy hour, stop by between 4-7 pm Monday through Friday.
Sant Ambroeus
For a night of elegant Italian dining, those hunting for Southampton real estate should look no further than
Sant Ambroeus
. Friendly servers and good portion sizes are just the start at this elegant and refined eatery that provides visitors with streetside dining perfect for people-watching or enjoying the warm weather. The restaurant has been touted as having some of the best pastries, cakes, and gelato in Southampton, but their pasta can't be beat, either. Try classics like the fettuccine alla bolognese or the house ravioli. For dessert, pair a cappuccino with the ricotta cheesecake, tiramisu, or the Sant Ambroeus, a chocolate mousse cake filled with chocolate custard. Located on Main Street, Sant Ambroeus is open from 9 am-10 pm daily.
Tutto Il Giorno South
In addition to San Ambroeus, Southampton has
Tutto Il Giorno
, another fantastic Italian spot with a modern dining room and a unique menu. Tutto Il Giorno brings a vintage Italian vibe to their restaurant, and locals love the arancini or burrata starters as well as the traditional calamari. Mains like the rigatoni and paccheri are popular options, especially paired with a house cocktail like the espresso martini. Housed on Nugent Street, Tutto Il Giorno is open most days from 12-3 pm and again from 5-9:30 pm.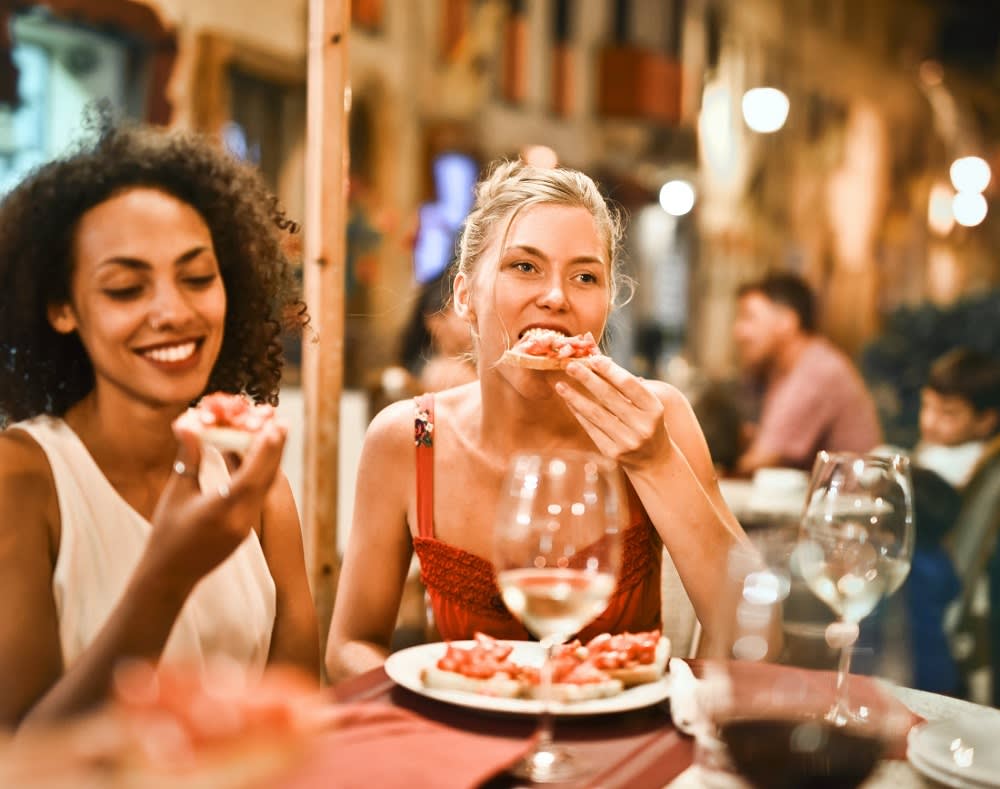 75 Main
Beautiful alfresco dining awaits anyone who visits this prime piece of Southampton real estate on Main Street.
75 Main
is an upscale restaurant with bustling energy and a spacious dining room. Combining comfort and class, the restaurant offers a menu curated by chef Mark Militello that serves brunch and dinner. So many Italian and seafood favorites are available at 75 Main, from rare skillet-seared yellowfin tuna tataki to Prince Edward Island mussels and linguine with clams. Main courses span from ½-pound lobster to beef tenderloin, prime burgers, chicken parmesan, and honey and mustard salmon. If you stop by for brunch, the challah French toast and crab cake benedict are house favorites. 75 Main is open every day from 8 am to 12 am.
The Plaza Cafe
The Plaza Cafe
is a great upscale option for seafood, located minutes from homes for sale in Southampton. Serene and laid-back, this eatery has charming outdoor tables and incredible menu items. Each dish is handcrafted to perfection and crafted to combine all the right flavors. For a small plate or starter, try the seared local calamari or the prosciutto-wrapped wild pacific shrimp. Medium plates include dishes like tuna poke nachos and spicy shrimp tempura, while main courses range from horseradish-crusted Icelandic cod to the house lobster and shrimp shepherd's pie. The Plaza Cafe has earned top reviews for its comfortable yet classy ambiance and considerate staff. Located on Hill Street, the restaurant is open every day from 5:30-10:30 pm.
T Bar Southampton
T Bar
is the final restaurant on our list, located on Elm Street, steps from many homes for sale in Southampton. T Bar is loved for its cozy outdoor dining area and elegant atmosphere. Guests can share starters like classic guacamole to search Spanish octopus or rice balls. T Bar's thin crust pizza is a local favorite to order for the group. Or, they have a selection of salads and raw appetizers like crispy sushi, yellowfin ceviche, and oysters. For entrees, T Bar has a range of American favorites with a handful of seafood options, too. Sample the herb grilled branzino, crusted tuna, or a tender dry-aged ribeye. T Bar Southampton is open Wednesday through Sunday from 5-9 pm with extended hours to 10 pm on Friday and Saturday.
Start your search for Southampton homes with a team that knows the area through and through. The Atlantic Team specializes in Hamptons real estate, helping clients find their forever home on Long Island. When ready to start the process, reach out to
the Atlantic Team
.